If you have a friend having a baby, you're probably on the hunt for a great gift that they will actually use. Everyone loves picking out adorable little baby outfits, but those are gifted so often and outgrown so quickly, it's nice to pick out something that will get a little more use. I've complied a list of great Baby Shower Gifts by budget that any expectant Mama would love and use.
Disclosure: Some links below are affiliate links. This means at no additional cost to you, I earn a small commission if you decide to click through and make a purchase
How much should I spend on a Baby Shower Gift?
Ultimately, the answer to how much you should spend on a baby shower gift is that it depends on the situation. Firstly, you should only spend as much as you can comfortably afford (you could always hand make something if your budget is super tight). Secondly, usually etiquette dictates that the closer your relationship with expectant mom the more you are expected to spend. If the mom-to-be is someone you haven't seen in years or a coworker, something less expensive is more appropriate. Obviously for a close relative or best friend, you would typically spend more.
Best Baby Shower Gift
While not everyone will agree with me, I actually think that the best baby shower gift is something that the expectant mother (or couple) have selected themselves. If the mom-to-be has a registry, you can be sure she invested time and effort in researching what baby would need and selecting items that would fit best with their lifestyle. So, if there is a baby registry, I would highly recommend purchasing a gift off of that list. That way you can be sure you are gifting something that will get used and is needed. Usually all of the registry information will be provided on the baby shower invite, so start by looking there.
If you want to buy baby an adorable outfit because you couldn't resist (or if you are a parent with an idea that was a lifesaver for you as a parent), I would advocate for pairing that with a gift off of the registry as well.If there isn't a registry, I've organized ideas into various budgets below. The best baby shower gifts are practical items that will get a lot of use, be well-loved and ideally they're a bit sentimental.
Under $25 Baby Shower Gifts
This Co Little Baby Handprint & Footprint Kit is an excellent, but fairly inexpensive baby shower gift. It's a kit that includes clay for making a mold of baby's handprint and footprint, along with a picture frame for displaying the mold and a couple of photos. This kit also comes with stamps for adding a name and date at the bottom of the clay mold. I actually bought this for both of my children and gifted to my mother-in-law because I thought it was such a darling idea. I love this as a shower gift as it's sentimental and is a great way to capture memories from those fleeting first days with baby. It's also something that is sure to be treasured for years to come.
Another great, but inexpensive baby shower gift idea are these Hudson Baby Unisex Baby Cotton Flannel Burp Cloths. Burp cloths are an absolute must-have with a newborn, but these cute bee inspired designs (plus many other patterns to choose from as well) are absolutely precious. Additionally, they are generous in size, which is a key factor to look for in burp cloths that many overlook. These burp cloths are super soft and hold up well over time, and would make a very practical baby shower gift.
Another great baby shower gift idea is this Luxury Little Baby Diaper Caddy Organizer. It's a large diaper caddy with room to organize diapers, wipes, baby lotions and cream. It'd be great to buy this and fill it up with all those necessary baby products – like baby lotion, diapers, diaper cream, etc. – making it into a gift basket for the baby shower. Caddies like this are great, as they can be left on top of a dresser and brought from room to room as needed with a newborn. Another practical baby shower gift that any new mom could get a lot of great use out of!
This Bear Newborn Baby Blanket Plush Swaddle in White is absolutely adorable and is super soft and cuddly. It would make an excellent baby shower gift for a winter baby or in cold climates.
Keeping with the snuggly bear theme, these adorable Bamboo Hooded Baby Towels are another great inexpensive baby shower gift idea. Hooded towels are great for wrapping up baby after shower and keeping baby's head dry and warm. They do actually come in a variety of animals: bears, ducks, unicorns, hippos and elephants to name just a few. These are larger and denser hooded towels than many competitors, making them my top hooded towel pick.
This Personalized Name Baby Keepsake Rattle Teether is nice sentimental option if the mother-to-be has already shared baby's name. The teether is not only quite beautiful, but also sweet in that it will be personalized for the new baby.
Another awesome baby shower gift idea is this Itzy Ritzy 4-in-1 Nursing Cover, Car Seat Cover, Shopping Cart Cover and Infinity Scarf. It's a great option because it serves so many purposes in one relatively small piece of cloth: a nursing cover, a car seat cover, a shopping cart cover and an infinity scarf. It's available in a few prints as well. The car seat cover comes in super handy when it is cold outside and to protect baby from germs. Especially after the pandemic, keeping baby covered when shopping is a great idea. This discourages random strangers from coming in close to ogle your baby. I also like that even when the cover is on, there's a hole at the top so you can easily pull it down and check on baby.
Under $50 Baby Shower Gifts
As a new mom, I absolutely loved using swaddles with velcro and straps as opposed to blankets, because real swaddles actually stayed in place. These SwaddleMe Easy Change Swaddles are both beautiful and practical. They velcro closed securely; however, they also feature a zipper at the bottom of the swaddle. This allows for easy diaper changes without removing the whole swaddle. Instead, you can simply unzip and pull up for a quick diaper change, which comes in handy in the middle of the night.
While I don't personally love blankets for swaddling, having blankets on hand with a newborn always comes in handy. These Aden + anais Muslin Blankets come in beautiful patterns and are incredibly well-made and soft. We tucked them around baby for additional layers when it was chilly. I also found these helpful for breastfeeding as a makeshift cover or support under baby when needed. Any new mom would be happy to have these lovely blankets!
Another great gift baby shower idea is the Boppy Original Newborn Lounger. Our second baby absolutely loved lounging in this. It's also portable, so whenever we went over to someone else's house, we would bring this with us. Then if we needed somewhere we could sit baby down for a moment, we had a safe and comfy place to do so.
This Boba Wrap Baby Carrier is another practical baby shower gift that any new mom would love. While there are pricier, more structured baby carriers out there, the Boba Wrap is a less expensive and is newborn friendly. I always preferred wraps to the carriers, as did my babies. Wraps provide a great way to go hands free, but to hold baby and keep them content and close. Since baby stays close to mom, they tend to stay happier for longer than if you were to put them down in a crib or bassinet.
Under $100 Baby Shower Gifts
I absolutely adore the Coconut Oil based Bubbsi Baby Skincare line. The Newborn starter set, which includes a shampoo + body wash, body cream and a coconut oil body balm, would make for a super adorable baby shower gift. You could pair this with the Diaper Caddy mentioned above or with a Diaper Bag to make a cute gift basket that any new mom would be thrilled to receive. You can find my full review of the Bubbsi line here if you are interested.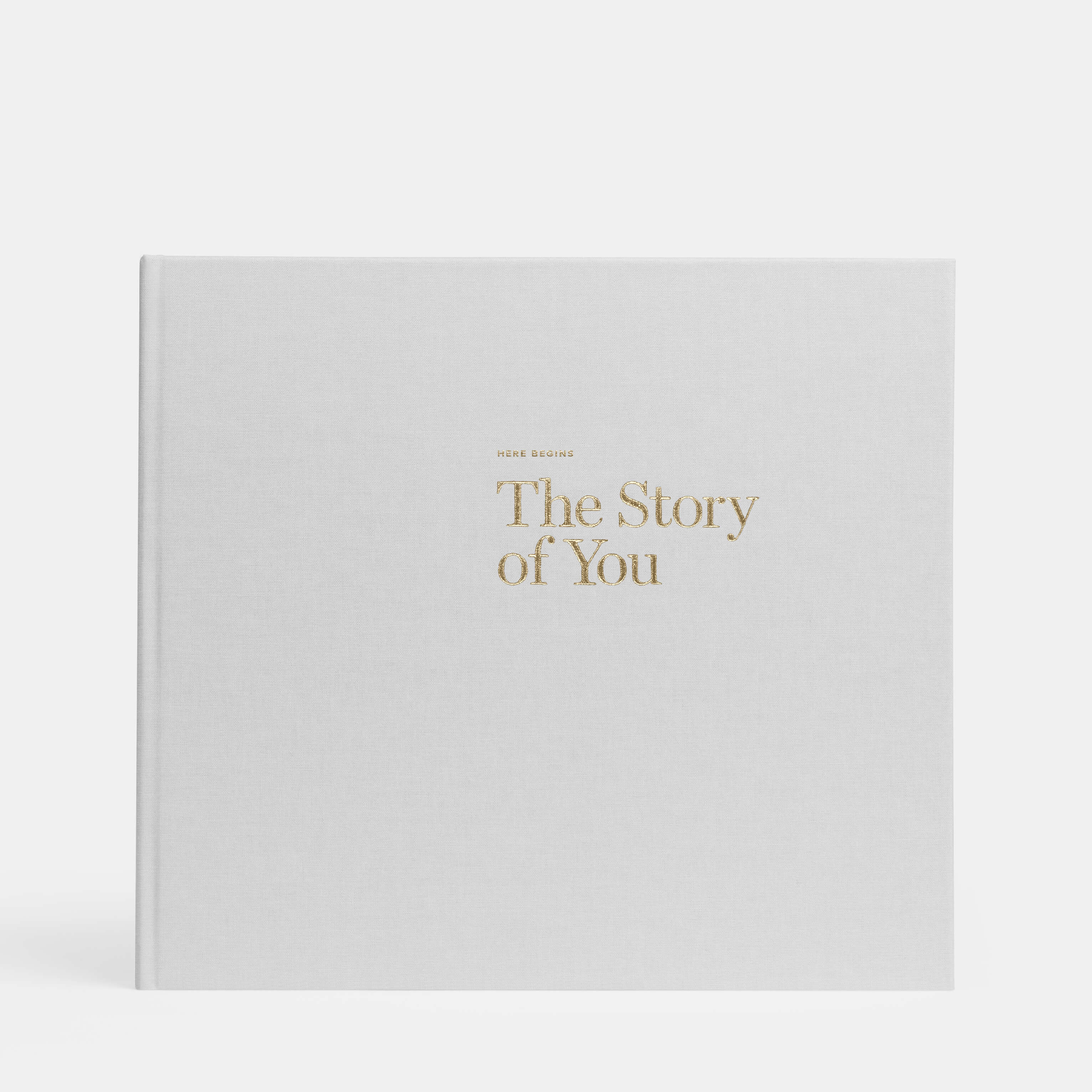 This is an awesome sentimental gift to bring to a baby shower. The Artifact Uprising The Story of You is a clean modern Baby Book for capturing and documenting all those precious first memories and milestones. The prompts are unique and refreshing and the book itself is absolutely beautiful (not cheesy like many baby books can be). It also comes with a sturdy pen and several adhesive strips for securing pictures. Additionally, you can buy additional pages to add (or remove existing ones) since the book is actually a binder. I used this with my second baby, and I can't recommend it enough.
The Vault Baby Keepsake Box is another awesome sentimental baby shower gift idea. It's a cloth box with a magnetic closure made for storing all those sentimental baby items that won't fit nicely in a book. It includes 2 drawers, 2 caddies and folders for saving all those precious keepsake like blankies, baby booties, stuffed animals, bracelets from the hospital and of course all those photos and documents. I really wish I would have seen this when my babies were little. I saved some of these items, but having a box to organize it all would have ensured I kept it all and didn't forget or lose anything.
If you're not the sentimental type and are looking for something that practical parents will get a ton of use out of then this Ubbi Steel Odor Locking Diaper Pail is the baby shower gift for you. Having a diaper pail saves parents from having to constantly make trips outside to the garbage with dirty diapers. The Ubbi pail is great at locking in odors and works with standard trash bags. If you're going to gift a diaper pail, this is the one to give.
Under $150 Baby Shower Gifts
The LoveEvery Play Gym is a stage-based play gym designed by child development experts. It grows with your child from age 0 months up to a year, providing a whole year of play. It includes teethers, balls, rings, several card sets, mirror cards, and a play guide with suggestions on how to maximize child development playing with the mat / play gym. I also think it's quite appealing to the eye (especially compared with some other play gyms), and is something I wouldn't mind having out in my living room all the time.
The Keekaroo Peanut Diaper Changer is the changing pad reinvented. It's a water resistant, soft changing pad designed for easy clean-up when those inevitable accidents happen. In other words, less laundry for those tired new parents. I love this changing pad and recommend it to all first time moms.
The Baby Brezza Glass one-step food maker is absolutely adored by many moms as it steams and blends in one-step. Which makes making your own baby food a snap, which is great because it's cheaper and generally means less nasty preservatives and chemicals for baby to ingest. The bowl and blade are safe to go in the dishwasher, making for a quick and easy cleanup too.
While this may not be the most cutting edge gift on the list, I can 100% guarantee you this will be used. Diapers are a costly expense for new parents, and who wouldn't love to have a good supply on hand. This Pampers Baby Diapers and Wipes Starter Kit provides a 2 month supply of diapers and wipes (in Size 1 and Size 2) for moms-to-be. I think this would make for a brilliant baby shower gift that is incredibly practical and sure to be used. If you are crafty you could probably even make one of those diaper cakes out of these (or you could just buy one on Etsy).
The Petunia Pickle Bottom Axis Backpack is a Diaper Bag, well backpack, with a minimalist clean designs but tons of storage options for a mom on the go. It features a top and bottom storage compartment, 2 exterior pockets (one being insulated and designed for bottle storage), 1 interior pocket, plus a magazine compartment. It also comes with a washable baby changing pad. It's an incredibly well-designed and durable diaper backpack that would make a lovely baby shower gift for a new mom.
Splurges – Expensive Baby Shower Gifts over $150
These are the types of things that I would reserve for someone that you are extremely close to, like a best friend, a sister, daughter or someone else with a very close relationship. Unless you are just that generous, and then by all means, go for it!
The 4moms mamaRoo 4 Baby Swing is, in my humble opinion, the Cadillac of baby swings. It's used in many NICUs to comfort and soothe upset babies, which speaks to its efficacy in calming upset newborns. It has 5 unique motions and speeds; it also comes with built-in sounds or you can plug in your phone to play your choice of music. The seat zips off for easy cleaning, and no batteries are needed as it plugs right into the wall. This would be an incredibly thoughtful and generous baby shower gift.
An excellent baby shower gift idea for a mom or family that frequently travels is the Lotus Travel Crib. It's a crib designed for easy travel and maximum comfort. The crib itself folds up into a backpack and weighs only 13 pounds for easy portability through airports or on a trip. It has a zipper door on the side to make putting baby down to sleep a breeze (and easy on your back too). It's safe for 0-3 years old children to use, and is GreenGuard certified making it a great safe option as a playard / portable crib.
The SNOO Smart Sleeper Baby Bassinet is the top of the line bassinet that I wish I had for my babies. It has automatic rocking and white noise that scales when it detects fussing to assist with soothing newborns back to sleep. In fact, the SNOO manufacturers claim that it boosts sleep by 1-2 hours every night. That extra sleep is worth every cent to a new parent, and I'm sure any mom would be absolutely thrilled to receive this as a gift at their baby shower. Additionally, the SNOO Bassinet includes a sack with wings that secure to the bassinet to prevent rolling and ensure baby stays on their back.
If you are looking for the best of the best to give as a baby shower gift, the UPPAbaby VISTA V2 Stroller is a luxury stroller with top of the line finishes and features. It has a spring-action all-wheel suspension and slightly softer tires for the smoothest ride for baby. It includes a bassinet for newborns, and the toddler seat and RumbleSeat accessory accommodate larger children. It's also super easy to fold and stands when folded.
Thanks so much for stopping by! Did I leave out one of your favorite baby shower gifts? If so, I'd love to hear from you in a comment below. I'm always updating my lists to keep them as up-to-date and relevant as possible.