I recently was having some back and neck pain when I woke up in the morning, and thought that my pillow (and potentially my bed) could be part of the issue. I figured starting with replacing my pillow was the far less expensive option….after doing some research I ran across the Layla Sleep Kapok Pillow. It's an adjustable pillow that's infused with copper to keep the pillow both clean and cool. I've now had the pillow for several months and wanted to share an in-depth review of the Layla Pillow. Is it really one pillow to rule them all as they claim? Or is it all just good marketing?
Disclosure: Some links below are affiliate links. This means at no additional cost to you, I earn a small commission if you decide to click through and make a purchase.
Layla Copper Infused Memory Foam Pillow Review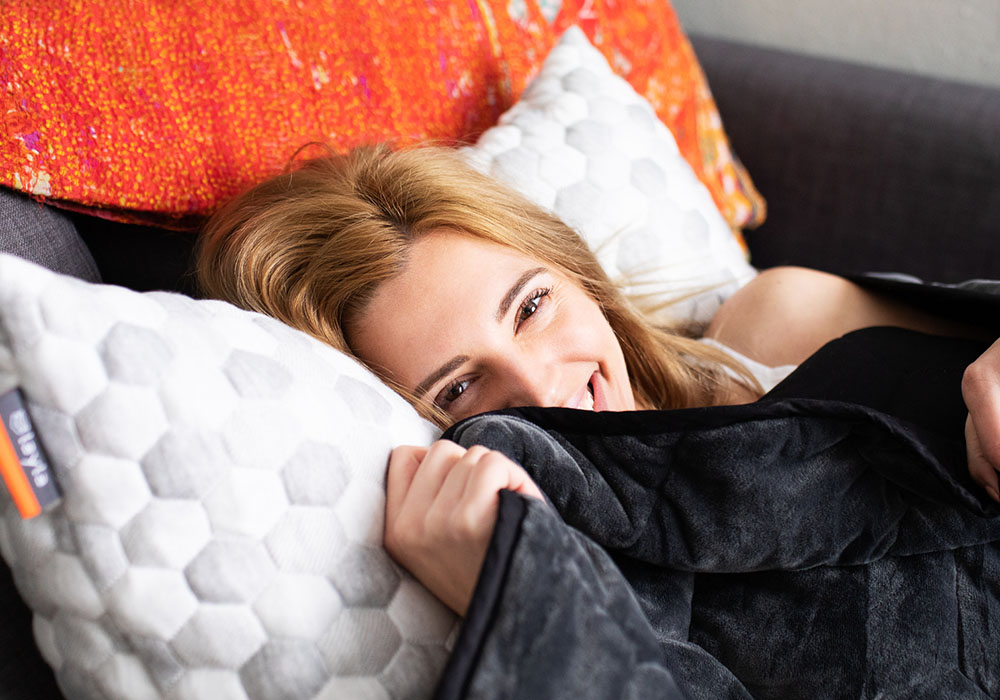 Layla Kapok Pillow – Product Details
The Layla Kapok pillow was designed to be soft and plushy, while also being supportive. It's stuffed with a proprietary blend of Kapok fiber (hence the name) harvested responsibly from the seeds of the Kapok tree and memory foam. This clever combination creates a pillow that's plush but also supportive. The memory foam makes it moldable and reactive to you.
One of the unique features about the Layla Pillow is that it's adjustable. What does that mean? Essentially the pillow has an opening with a zipper at one end. This allows you to open up the pillow and remove some of the stuffing the get it to the perfect height or loft for you. It even comes with a storage bad where you can store the stuffing material that you remove.
If your preferences changed or if the pillow were ever to get more flat over time, you could always add that stuffing back in. Generally the pillow arrives overstuffed, so expect to remove some stuffing when it arrives. This adjustability makes the Layla Pillow a great option for all types of sleepers: side sleepers, stomach sleepers or back sleepers.
The pillow is woven with CuTEC, which is copper infused yarn. The manufacturers claim this fabric is widely used for reduced odors and improved cleanliness. It also has a natural cooling effect. The other materials used in the pillow cover are polyester, viscose and poly/lycra, making it soft and breathable. Here's a close picture up of the material.
The pillow comes in Queen or King sizes, in the hexagonal woven fabric that is varying shades of gray. The Queen is 18″ L x 28″ W and weighs 4 pounds, while the king measures 18″ L x 34″ W and weighs in at 5 pounds. Currently the Queen retails for $109, while the King costs $129.
Layla Pillow Satisfaction Guarantee & 5-Year Warranty
The Layla Sleep Pillow comes with a 100% satisfaction guarantee. This means that if you are unhappy with the pillow for any reason after trying it, for up to 120 nights, you can email their support team to get a full refund. The Layla team does suggest trying the pillow for at least 2 weeks to give yourself adequate time to assess if the pillow is right for you.
Additionally, the pillow itself comes with a 5-year warranty on materials and workmanship. This covers stitching, flattening over time or any fading of colors through normal wear and use.
My personal experience with the Layla Kapok Pillow
So did the Layla Sleep Pillow live up to all of its promises? The TL;DR version is overall, yes it did (with maybe one exception).
Here's the long version with all my personal details – First, for reference, I am mostly a stomach sleeper, although at times I sleep on my side. So I prefer a pillow that's a bit flatter, but very moldable. I did purchase the King sized pillow, and the sizing matched exactly with what I would have expected.
When the Layla Pillow first arrived, I removed a significant amount of the stuffing (as it arrives quite overstuffed). I then readjusted the remaining stuffing and removed a bit more after sleeping on it once. So expect to have to make some adjustments and do some trial and error to get it right for you. I personally love this flexibility to adjust the loft! This gives you great versatility no matter who you are and how you sleep.
Overall, I found the Layla Sleep Pillow to be super comfortable to sleep on. I think it is super soft, airy light and conforms really well to your neck and shoulders. I think it gives great support, but doesn't feel firm or stiff at all. It did decrease the neck and shoulder pain I was experiencing. I adore this pillow and plan to continue sleeping on it. I even took it with me on my most recent trip as I've gotten so spoiled sleeping on it.
Is the Layla Pillow Cooler than other pillows?
To the touch, the Layla pillow cover doesn't really seem cooler than other pillows to me. Overnight, the pillow seems to be neutral temperature wise. I wouldn't say that the pillow keeps me significantly cooler, but it seems like it doesn't get quite as warm from body heat as other pillows I've owned. I, of course, put the pillow in a pillow case. So maybe I am losing some of the cooling effects by doing that.
Bottom-Line Layla Pillow Review
I adore my Layla Pillow, and I think it's worth a try for anyone out there. I love the adjustability and soft supportive comfort it provides. I think if you sleep on your stomach or side and have a hard time finding the right pillow loft, the Layla Kapok Pillow is absolutely worth giving a try! Do make sure when you buy it that you remove some of the stuffing until you get the loft that feels right to you.
Thanks for stopping by! Have you tried out Layla Sleep's Kapok pillow? What was your experience? I'd love to hear from you in a comment down below. I'm also curious how their mattresses and weighted blankets are. So if you've tested them out, please let me know!
If you enjoyed this review, you may also want to check out my review of the Brooklinen Super Plush Towel.